Brag Book & Profit Improvement
You will have to take my word for it Wallace, I don't often brag. But one reason I persevere with this project, in the face of failure after failure, is my belief in the content I deliver - driven by the feedback I receive every time I present to a live audience. My brag book (below) is a sample of some of the positive comments people have made.
The 3-minute video accessible via the second button featured on the previous version of my website provides an overview of the impact of the content I offer.
My go-to service for new clients is profit improvement.
I target profit improvements of the order set out below. People look upon this with disbelief. However it's possible and it happens, as I outline a little further down the page.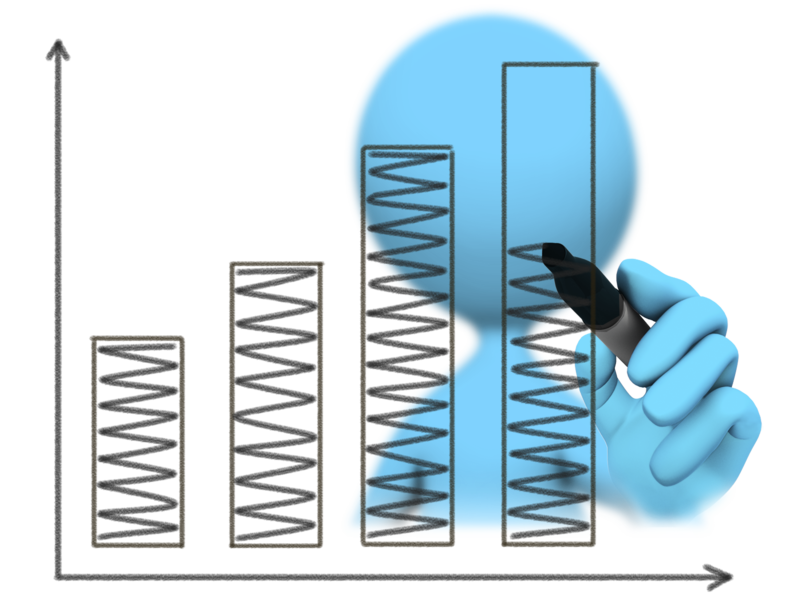 Even when I suggest to accountants they should be helping their clients achieve this level of improvement they shake their head; "not possible" is the usual response.
This is the abridged version of my explanation in support of the claim.
A service business generating a profit of $350,000 is likely to generate sales revenue of $2,300,000. Through the introduction of a better pricing strategy, I target an increase of 3% to 5% to the top line, at least - $92,000. All of this increase flows to bottom-line profitability as there are no costs associated with a price increase.
The organisation is probably charging 17,000 hours to customers at a gross profit per hour of $80 per hour, and the 17,000 hours is probably 60% of hours worked. Through the introduction of Contribution Based Activity theory and weekly KPI reporting, productivity can be lifted to 70%. That is an additional 1,700 hours @ gross profit per hour of $80 = $136,000 - it's all profit as a productivity increase, as for pricing, has no costs associated with it.
Pricing strategies ($92,000) and productivity ($136,000) will lift the $350,000 profit to $578,000 - that is the target achieved! But there is now additional capacity available as low yielding customers have gone producing more free hours, and work is being done more effectively also producing more free hours, allowing for the introduction of new A-class customers - and even more profit.
Profit Improvement is Just the Beginning
Once you help a client to significantly increase the profit they earn they look to you for assistance in other ways to improve the business. It is at this stage I introduce them to the 9 stage Business Development Process.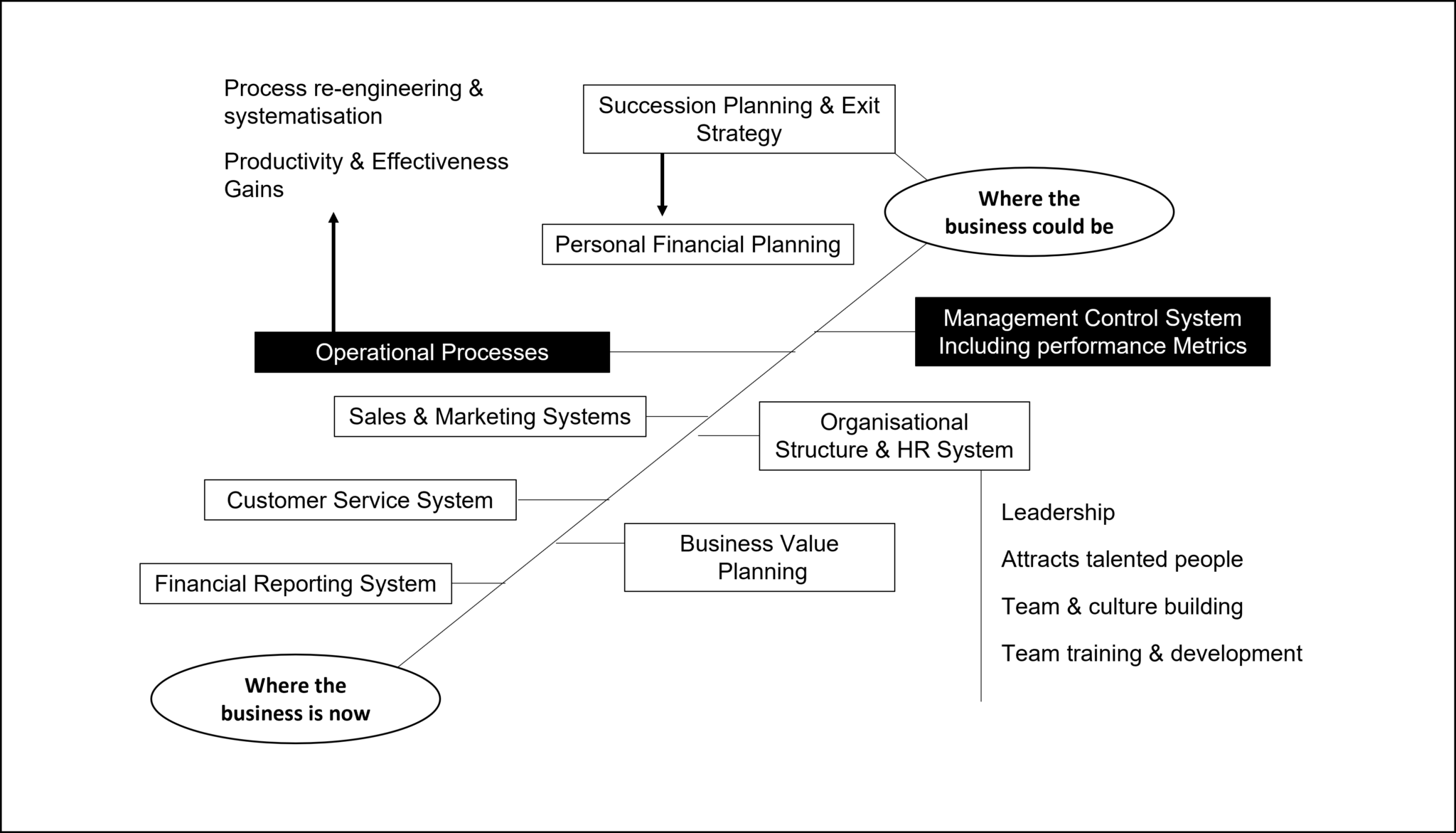 The strategies are sound, they are simply commonsense and when delivered to clients in the traditional consulting environment they are well received.
But I am driven by a passion (ego probably) to deliver the business development process to business owners throughout Australia, the UK and the USA. I thought the eLearning world would facilitate this but I have failed in the endeavour - not through lack of trying, hours of research and development and testing dozens of eLearning tools and platforms.
A Different Approach - Plan ZZ!
I still believe in the theory espoused in the video "How You Learn" produced again for an earlier version of my website. However rather than deposit lessons in a Learning Management System - Learndash, Moodle, Blackboard etc - and leave learners to their own devices I plan to take a blended approach.
I hope I have successfully explained the new approach in my recently relaunched website. Have a look around it by following the menu above.
If you visit the "How babb Works" you will see a 6 step process I have mapped out.
Over my journey, I have created and collected dozens of videos, scripts, tools, articles, and other resources (refer to adjacent buttons for samples). Rather than build static courses and send business owners to my site, I will engage with them personally. Following initial discussions, I will put together pages, like this one, and load material specific to their learning requirements.
Using smartsheet (I will explain what that is later) I will know what material the client interacts with, or does not interact with, and will follow up accordingly.
This will be more labour intensive for me, and therefore more costly for the client, but less expensive than a traditional consultancy service.
I Will Need to Recruit Foot Soldiers
Wide-scale distribution of the service in the manner outlined above is only achievable with the recruitment and training of other accountants. I do not intend to employ them, rather they will work as contractors and pay a royalty to me for access to the client training resources & systems and their training & support.
I will provide a detailed business plan in due course, below is a summary of how I see it working.
With appropriate automation (smartsheet and keap or similar), templates and processes in place an accountant should be able to move a business owner through a module with no more than 2 to 3 hours consulting time, say 2 1/2 hours.
If they work with 50 clients a year, who complete 5 modules each they would generate $212,500 in revenue for 625 consulting hours. After paying a royalty to me of 30%; they keep $148,750 for 625 fairly low-stress hours of consulting.  (They would have other income opportunities from these clients if they wish to offer other services.)
My Big Hairy Audacious Goal is to recruit 30 accountants in Australia, 50 from the USA and 50 from the UK. If they all work with 50 business owners a year, that is revenue to me of (130 accountants x 50 businesses x $850 a module x 5 modules) x 30% royalty = $8,287,500.
---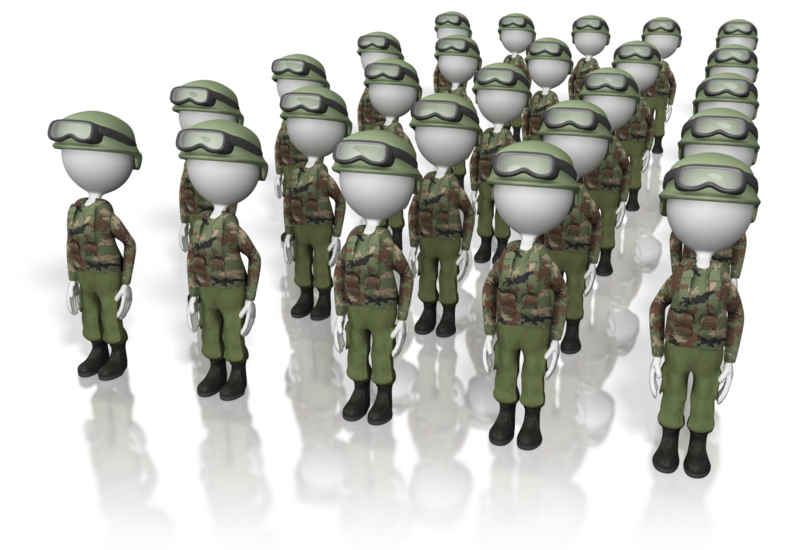 ---