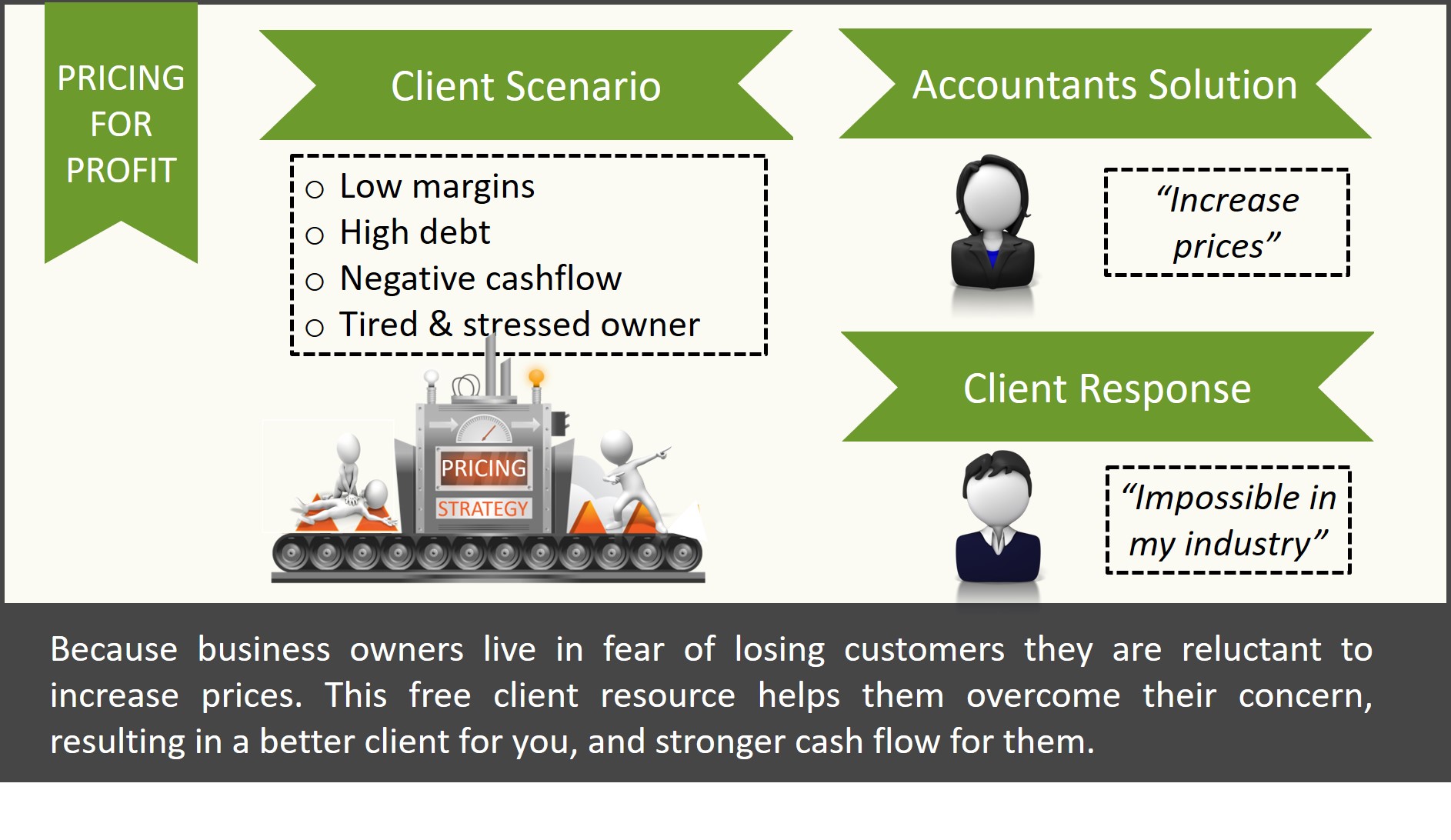 All accounting firms work with some clients facing, what appear to to be, hopeless situations. And every accountant knows increasing prices will fix low margins and poor profitability. However, getting some clients to shift their attitude on prices is near impossible.
What this means for you, is many hours spent helping the struggling enterprise, without fully recovering the time in fees.
You are not alone. It is common place for accountants operating in the small business sector to tolerate troublesome files. They do so out of respect for clients and a sense of duty to help them through even the toughest of circumstances.
The information contained in this article is designed for you to use with the owners of underperforming businesses. When you teach these clients to overcome their fear of increasing prices you will produce four outcomes:
An immediate lift in profitability and cash flow for client businesses.

More fees for the firm.

Your sense of duty is dealt with in a more effective manner – without wasting time on those who lack the self-discipline to help themselves.

You create a system for attracting new clients currently under-serviced by a competitor firm.
Everything you need to successfully carry out this teaching assignment is available, free, within this resource, and the Profit Surge Kit created for you to use with clients.
There is even a step by step trial for you to "test the water."
This trial will generate a consulting fee of $400. Once completed, it is simple to replicate the process to produce a new revenue stream for your firm.
It will involve an innovate approach to working with under-performing clients.
The free Profit Surge Kit contains:
Suggested letters and telephone scripts forming the basis of bringing the activity to the client's attention.

Safety nets for tentative business owners, so they can be more courageous when it comes to pricing.

Tools and resources business owners will use to reinforce the lessons delivered.

Checklists for your use to ensure clients implement.

A suggested approach for using the material to win new clients.

Reasons why this material is best taught, rather than delivered via the traditional consulting methodology.

Client versions of the content and tools referred to below.

A client selection protocol
You can access your free copy of the Profit Surge Implementation Kit here
The innovate approach referred to sees you take on a role of teacher/trainer, rather than consultant.
Understanding why better outcomes are achieved when you teach business owners is foundational, so let's examine this now.
Embracing a Better Approach to Knowledge Transfer
Educators, including those at Harvard Business School are achieving improved results by working with a new instructional strategy, the Flipped Classroom – wherein students digest theory prior to lectures, freeing up class time to for discussion surrounding application of theory.
The same approach is ideally suited to business consulting.
Think about the way advice is currently provided to business owners.
The process starts with a problem requiring a solution.

The client attends a meeting where the advisor talks for an hour, or more.

Few, if any, notes are taken by the client.

Often the client fails to seek better explanations for concepts they don't fully comprehend.

Upon leaving there is an immediate requirement to respond to the several telephone messages and emails received while in attendance at the meeting.

Arriving back at work the owner returns to tasks on hand prior to the accountant's appointment, as well as the several new issues.

Within in the space of a few hours much of the knowledge transferred during the consultation is lost – forever.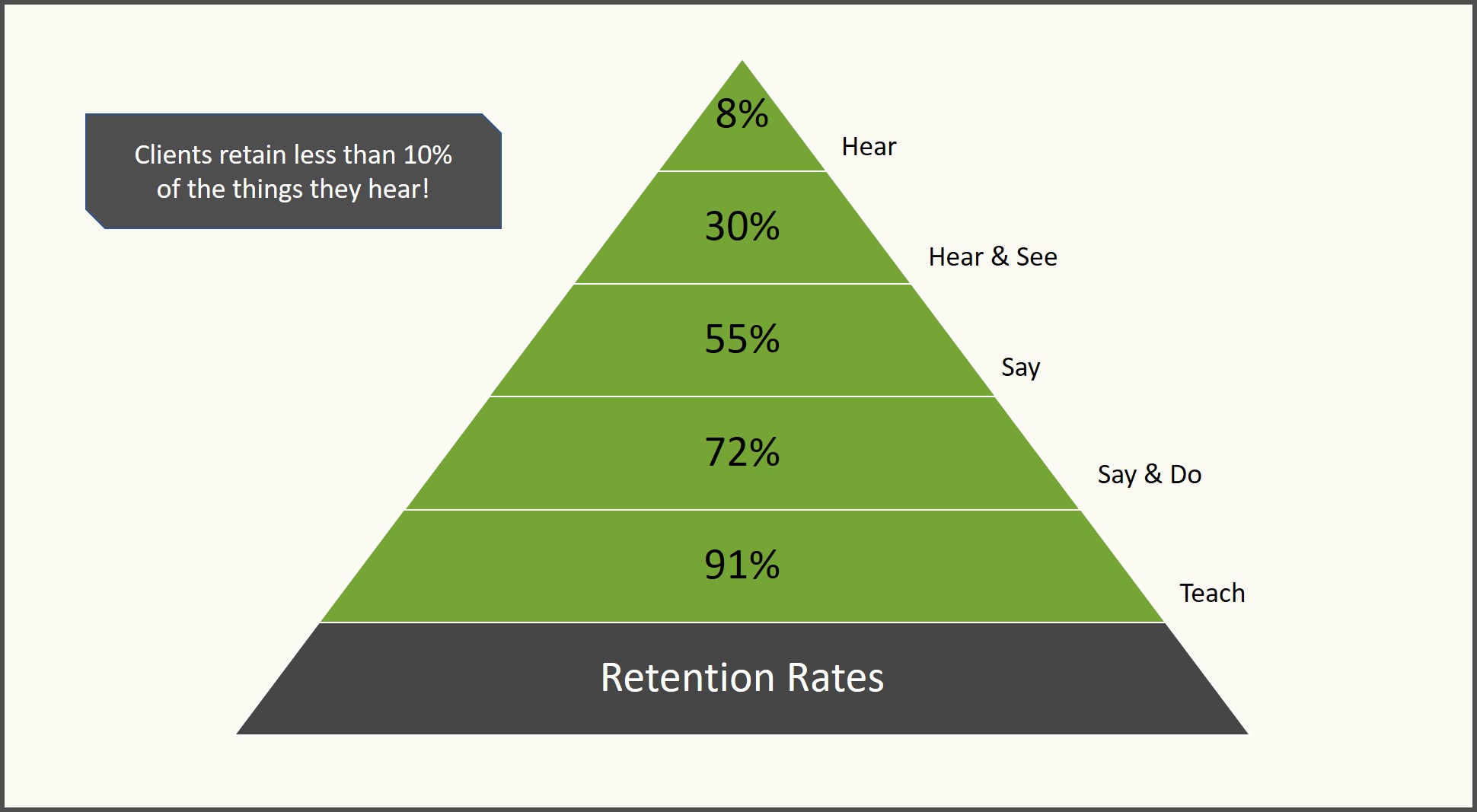 Higher retention rates will be achieved with the adoption of the flipped classroom approach.
Importantly, more knowledge is transferred, in less client contact time, making higher level advice accessible to business owners who previously could not afford to pay the fee – this is clearly beneficial to the business owner, but also opens a stream of new revenue for accountants.
Your clients can learn free on buildabetterbusiness.com, and then work with you on implementation.
If you have clients operating in industries suffering a downturn, refer them to the course Speeding in a Slowdown so as they avoid the two common errors made by business owners in such circumstance.
All course area available from the classroom page on buildabetterbusiness.com