Topic 2: An Uncompolicated & Powerful Guarantee
The cornerstone of our service offering is a bold assurance of client success. A covenant to remove the risk for those doing business with us, and you, in the advisory and enterprise development space.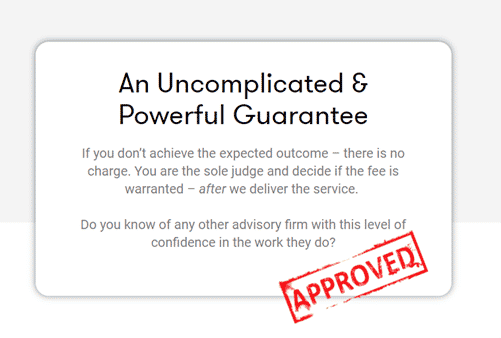 We stand alongside this guarantee with pride, we think the accounting firms choosing to partner with us will do so as well.
If the client does not achieve the outcome they expect no fee is payable, full stop, no questions and the decision is theirs. Don't look for the fine print or try to find wriggle room, neither exist. 
At the same time, it is commercially responsible as we limit our exposure to fees "at-risk" in two ways.
We are selective with respect to the clients we allow to participate. The Foundations Module is the process whereby only those who "buy-in" to the strategies we recommend and demonstrate the propensity to implement better management practices qualify to proceed to the ProfitSURGE® programs. The selection process involves no time commitment for our accounting partners and is respectful of the relationship between the business owner and advisor. 
The second safety net in terms of exposure to the guarantee is by way of limiting the time "at risk" to one module – a maximum of 2 hours.
A Glittering Badge of Honour
With confidence in both the content and client selection process, our partners display this guarantee as a glittering badge of honour. Imagine the pride of the team around you if your firm could make this statement to existing clients and prospects – 
"Our firm has the energy, strength of conviction, wisdom and potency to help you build a better business and with this, a better life for you and your family."
"Every young plumber should do this course" notes Andrew Hurst – Adelaide manager of Cushman & Cushman. "If not for ProfitSURGE® we would still be one man and a truck," says Lindy Hunt of Adelaide Retaining Walls – South Australian market leader, 18 staff and growing.
Enrol in the client modules – starting with Foundations so as you are able to make your own judgment as to the efficacy of our material, and then get excited about the impact of imparting it to your clients.